Hannah Wicklund & the Steppin Stones: "Ghost" Song Premiere
Kate Koenig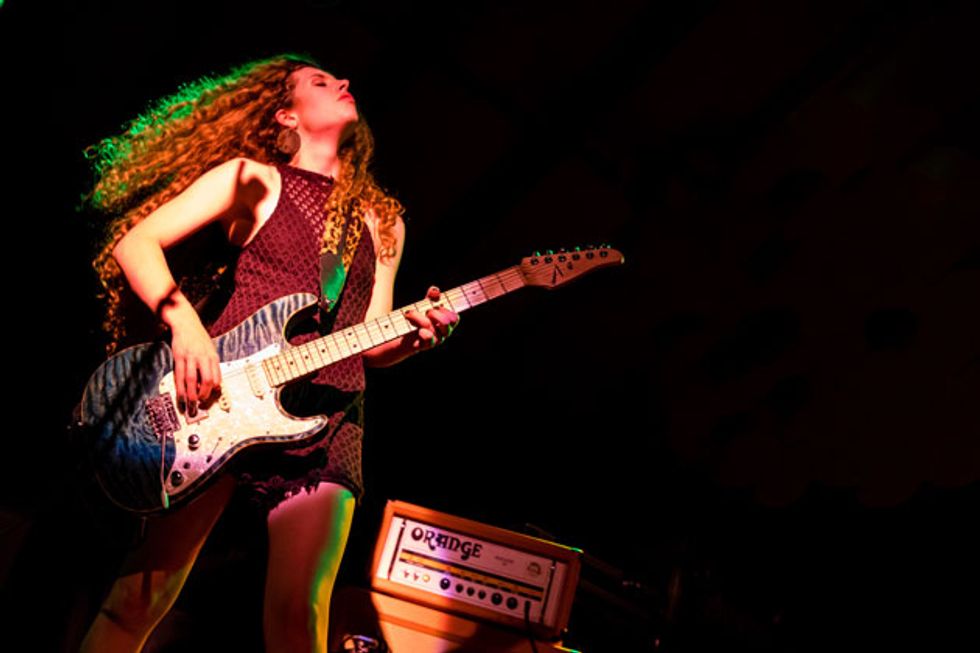 Hannah Wicklund plays custom Tom Anderson guitars, like this Drop Top Classic S-style, through an Orange half-stack.
A bandleader since the age of 9, guitarist, vocalist, and songwriter Hannah Wicklund is no newcomer to the music industry. Today, as frontwoman of her blues/alt-rock trio Hannah Wicklund & the Steppin Stones, the 20-year-old's stage presence and guitar playing is pure voltage. But with the release of her new self-titled album, she feels as though she's reached a benchmark. "I've been putting out music with the band since I was 12. I feel like for the first time, I was able to draw from my life completely," she says. "I feel like my life finally caught up."
That personal touch is certainly felt on "Ghost," a Premier Guitar exclusive song premiere and the second single off the album, which drops in late January. Wicklund's scarlet-toned vocals drip over a steady blues-rock groove punctuated by gnawing electric guitar—which echoes the songwriter's bitter resentment towards the titular "ghost" that haunts her. "A house made with love, but I burned it down," she sings with cool contempt. Halfway through, the song's edge transforms with ominous vocal harmonies, and Wicklund exercises that contempt with a short yet incisive solo that expresses it in a way the lyrics can't.
As a listener, Wicklund's head is buried in the classics. Rockers from the '60s and '70s such as Jeff Beck, Tom Petty, and Fleetwood Mac speak proudly through her musical penmanship over the course of her new album. Its wide range of sounds span aggressive, overdriven power chords to introspective acoustic fingerpicking. Capturing raw authenticity in the studio was a guiding force for the recording process, which Wicklund says wrapped in just a week. Look for our full feature interview with Hannah Wicklund & the Steppin Stones in the near future. In the meantime, you can visit their homepage to learn more about the powerhouse singer/songwriter and her trio, along with current tour dates.
YOUTUBE IT
Check out Hannah Wicklund and her band the Steppin Stones in action on "Bomb Through the Breeze," another track from her upcoming release.